enableHR allows for you to record notes against a vast range of records and can be used to highlight important details and/or provide context in relation to relevant records.
Below are the steps in creating a note against an employee record:
1. After opening your worker's record, click the "Notes" tab.
2. Click "Add Note".
3. Set your preference for "Contact Type" and "Topic" fields.
4. Tick "Sensitive", if applicable.
5. Tick "Raise during performance review?", if applicable.
6. Tick "Link this note to another record", if applicable.
7. Put as much details as possible in the "Comments" box.
8. The "Next step (Task)" field is normally set to "Save as closed". Modify this field should you need to assign a task to yourself, to the employee, or all users with a certain role. (See Task - how to assign a task to an individual for action in eSS)
9. Click "Setup Reminders", if you need to create an alert for the note.
10. Click "Create Note" to save the note.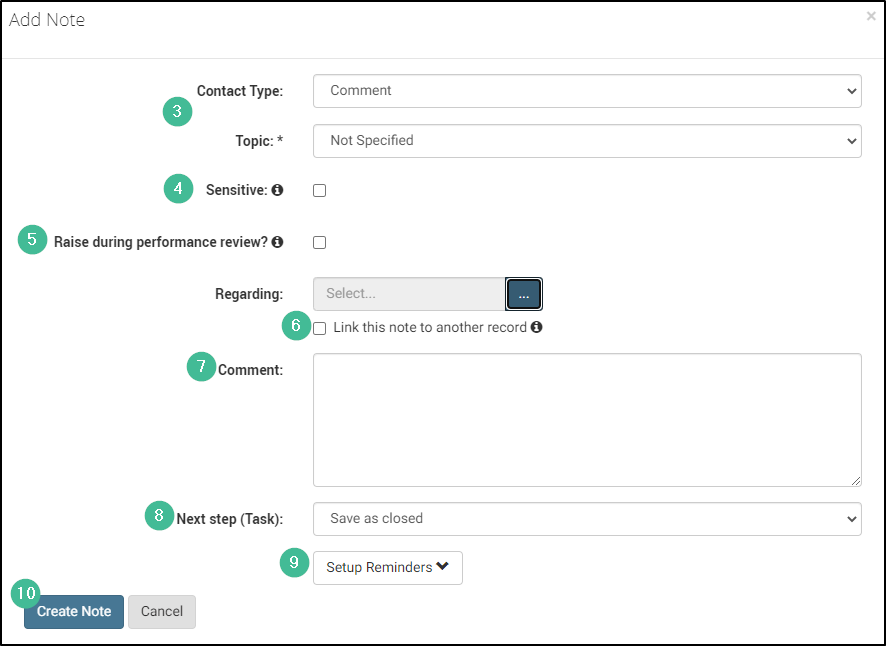 Please note that this example provides instructions on how to record a note against an employee. The same instructions can be followed to create a note against a candidate, contractor, incident or hazard.

TIPS:
Notes that are added to the Employee Record can be set to Sensitive (step 4 above). Only Users with the applicable Access Role will be able to see notes that have been marked as Sensitive.
Employees do not see any Notes on their Employee Record, unless you have turned the Note into a Task and assigned it to the employee in eSS (step 8 above).