Getting started with enableHR's new Workplace, Health & Safety Module (WHS) is simple and straightforward, involving the following key steps.
Step 1 - Core enableHR Set Up
The foundation for the WHS module is set via core enableHR. You will need to first ensure that core enableHR has been set up.
Step 2 - enableHR Self Service Set-Up
enableHR's WHS Module is powered by enableHR Self Service. You will also need to make sure that Self Service has been set up.
- Your Checklist on Getting Started with enableHR Self Service

Step 3 - WHS User Set Up
Businesses will need to identify the manager/s who should have access to and be able to control the management of the new WHS module.
For more information on how to create new users, please refer to the How to Create a New User article. For more information on how to control the different levels of access for new or existing users, please refer to the WHS Access and Security Roles article.
Step 4 - Upload Existing WHS Documentation & Data Transfer
Upload Existing WHS Documentation
It is recommended that any current and active business specific WHS policies / procedures are uploaded under the 'Our WHS Resources' tab via the 'Upload' button. Please keep in mind that any sub-tabs that include the words 'Shown in eSS' will provide eSS users with access to these documents directly from their Self Service portal.
Data Transfer (If needed)
For businesses seeking to upgrade their enableHR account to the new WHS module, there is no need to panic as any existing safety data and documentation stored in the old WHS module will be protected and preserved. The new WHS Module is independent and will simply be positioned next to the old WHS module.
Businesses are then required to manually transfer existing WHS data from the old module into the new. While rekeying data doesn't sound like much fun, it provides businesses with a timely opportunity to review their existing WHS records to ensure that they are complete and compliant with WHS legislation. Examples of data to be transferred include hazards, incidents, other people and safety documentation. Once this process is complete, contact Client Experience and request for your old WHS module to be hidden.
Step 5 - Set Up Your Safety Management System
Businesses can set up their safety management system by focusing on the set of workflows available under 'Lead Safety'. Businesses should start with the 'Setting Up Workplace, Health and Safety Policies and Procedures' checklist and can take their time in working through each section according to priority.
As part of completing this checklist, businesses will be prompted to create the following WHS documentation and tools. Please note that you have the option to skip items that are not relevant and/or link your existing company specific WHS documentation to the relevant step (provided you have already uploaded these in the previous step).


WHS Document and Data Control Procedure

WHS Management System Implementation Procedure

Workplace Health and Safety Policy

Workplace Health and Safety Responsibility Statement

Psychological Health and Wellbeing Policy

Risk Management Procedure

Create Rick Registers

Safe Work Procedure

Safe Work Method Statement

WHS Pre-Purchase Guideline

Legal & Other Requirements Guidelines

Legal & Other Requirements Register

WHS Management Plan and WHS Objectives and Targets

Emergency Plan

Emergency and First Aid Procedure

Volunteer Management Plan

Training Needs Analysis

Training Plan

Ergonomics Management Procedure

Preferred Equipment Register

Workstation Ergonomics Assessment

Manual Tasks Procedure

Induction & Training Procedure

Worker WHS Induction

Manager WHS Induction

Senior Manager WHS Induction

Visitor WHS Induction

Contractor WHS Induction

Contractor Management Procedure

Contractor Site WHS Observation Checklist

Consultation Procedure

Issue Resolution Procedure

Safety Talks Guideline and Plan

External Communication Procedure

Hazardous Chemicals Procedure and Register

Plant and Equipment Guideline and Register

Offender Description Form

Bomb Threat Checklist

Psychological Health at Work Guidelines

Preventing & Responding to Workplace Bullying Procedure

Monitoring and Measurement Procedure

Incident Management Procedure

WHS Management System Audit Procedure

WHS Audit Register

Internal Audit Report

Management Review Guidelines
Step 6 - WHS User Training
Businesses are encouraged to train their WHS users by explaining the purpose of the module and how it is to be used across the business. Examples of potential WHS Administrators include Workplace, Health and Safety Managers, Site Managers, Contractor Managers, Volunteer Managers and Team Managers.
Step 7 - WHS Induction
Undertake a WHS Induction across all workers and as part of the induction train your workers on how to report hazards and incidents in enable Self Service and show them where your key safety information is located. We recommend the WHS Induction is undertaken periodically across all staff to ensure they are aware of the health and safety processes and procedures in your organisation.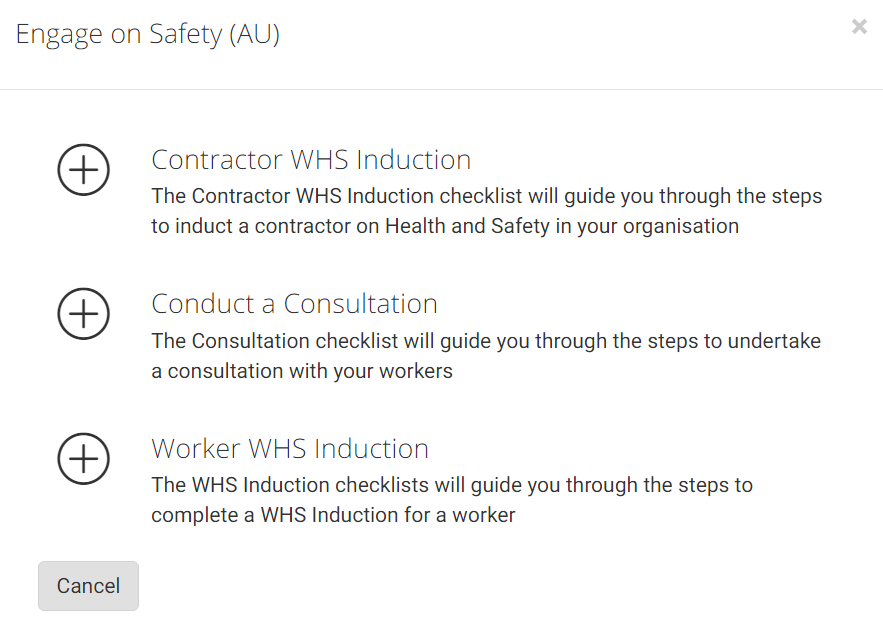 Need Help?
Contact Client Experience for assistance.