You can add your company HR policies and documents to your account, so that your leaders, managers and employees can access all HR related documents via enableHR. Having these documents accessible in the system (especially if they're only accessible in the system) is a good way to get people to consistently use the new software.
Your HR documentation should be stored under one of the three categories in the Employee Management module:

✓ Use the General Docs location for copies of your general workplace documents (such
as general forms, guides and organisational charts, for example).
✓ Use the Policies location for copies of your current workplace policies.
✓ Use the Library & Awards location for copies of any relevant Awards or EBAs, for
example.
There are three ways to add your documents to enableHR:
Upload your documents to the relevant Tab (e.g. General Docs tab, Policies tab, etc.)
Link documents to external files on your intranet or the internet from the relevant Tab (e.g. General Docs tab, Policies tab, etc.)
Generate and customise new workplace documents and policies using our employment
law policy templates (which are regularly reviewed and updated by our Law partners)

How to upload a document:
1. Navigate to the tab you're intending to upload a document to (or, if it is for your candidate or workers' document, open their record file and click "Documents").
2. Click "Upload a new document".
3. Click "Select file" to select the document you would like to upload (this will pick up the documents from your local computer). If you do not enter a title, the file name of your selected document will display as the document's title by default.
NOTE: You may also click "Add Another File" should you wish to include multiple documents in one (1) uploaded document file.
4. For the "Document Type" field, you can select different types of document types by clicking its drop-down arrow. For the full list of document types and other relevant details, please see the following articles:
5. The "Version" field (optional) can be set to any the following ("Complete copy" being the default version):
Unsigned copy - refers to created documents.
Executed copy - refers to signed documents.
Complete copy - refers to documents with no signature required (this is the default version when uploading documents).
6. For the "Signature Date" field, this is an optional field so you can select the date of signature for the document. This will be helpful for scanned documents.
7. The "Expiry Date" field is another optional field. On the other hand, this field is very beneficial ensure documents are always current and to track documents with expiry dates (e.g. certificates, qualifications, driver's license, etc).
8. Users can also receive alerts/reminders to track documents. Click the "Setup Reminders" button to set reminders and appropriately track follow-ups (e.g expired driver's license).
9. Should you need to limit the allowed branches to view the document, click the "Allowed Branches" drop-down arrow and select the relevant branch/es. This is another optional field (and most likely relevant to documents uploaded in various company/organisation tabs like General Docs tab, Policies tab, etc). Only users with access to the selected branches can view the document.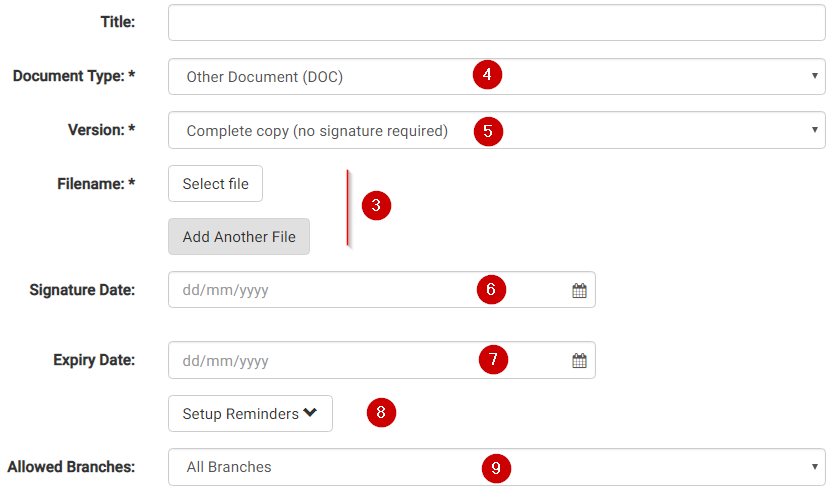 9. Click "Upload" to complete the document upload.
You can also view this article should you wish to create links for documents: Creating links for documents.