HR made simple
enableHR is cloud based software that helps you easily manage your employees.
Using workflows and checklists that guide you through smart, legally compliant HR processes, enableHR helps you communicate with your employees and set them tasks. It stores all your employee records and has features that let managers and employees easily access, deliver and receive documents and files at all stages throughout the employee lifecycle . It automates and makes time-consuming HR admin tasks simple, so you have more time to work on the things that matter in your business.
enableHR does this via its comprehensive range of HR and safety modules, which are as follows: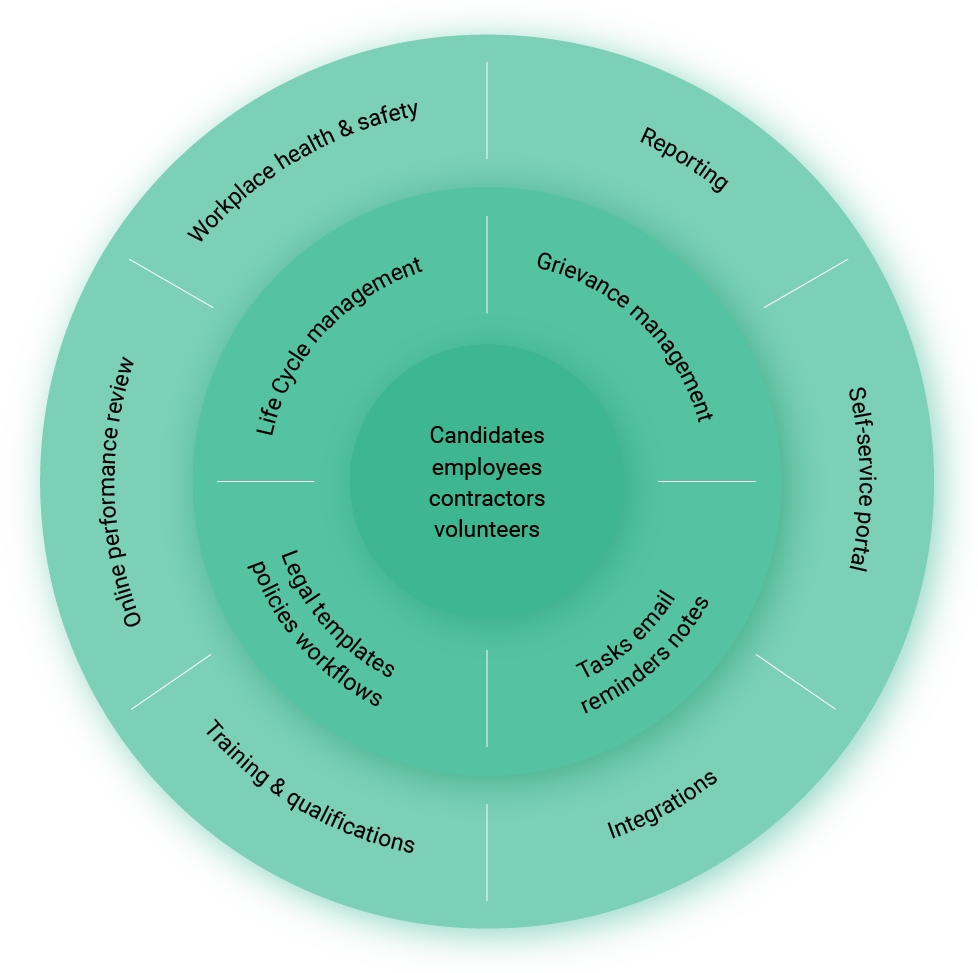 Effective HR Management

Easy management solutions for each stage of the employment lifecycle from recruitment to termination of employees, contractors and volunteers.

Best-practice HR solutions

Maintained to keep pace with Australia's complex and changing laws.

Lead, manage and engage your staff in all aspects of WHS. Meet your WHS obligations with our market leading WHS solution that uses a unique, proactive approach.

Create self-sufficient and engaged employees with direct access to all relevant resources, the ability to maintain their information, report WHS issues, and action tasks.

Alerts and Reminders

Notifications provide real-time, actionable alerts to make sure your workers are safe and your WHS systems are up-to-date.

Recruitment, on-boarding and induction.

Drive greater efficiency and make on-boarding easy, with digital contract signing and the use of smart, mobile-friendly technology.

Reporting

Handy reporting gives you insight into all employee and WHS activity across your business.

Training and qualifications management

Workers can self-manage changes to their training, qualifications, licensing and ticketing with digital uploading for approval by managers.

With hundreds of ready-to-use workflows, checklists, guides, policies, contracts and letters, enableHR eases the burden on your HR team and line managers for total compliance and peace of mind.

Data protection

Industry-leading encryption protects your data to, from and within the Cloud, with automated backups to multiple locations, two-factor login, and role-based access control and visibility.

Backed by legal experts

Built and backed by Australia's leading workplace relations firm — FCB Workplace Law — ensuring that every process, document and workflow is legally watertight and you're always compliant.
enableHR - Further Knowledge Base articles to assist you
Learn how to use enableHR - Setup and training sessions and videos
enableHR Account Setup: Getting you up and running
enableHR Account Setup: Additional Features; training your managers; launch to your employees
Empowering Managers with enableHR
Configuration
How can enableHR be configured to suit my business needs?
What factors should be considered when seeking enableHR Configuration?