This article assumes you have activated eSS on your enableHR account. Please see this Knowledge Base article if you still need to activate eSS for your account.
A person can register to have an enableHR eSS Account in one of two ways: (Option 2 - via an eSS checklist is at the bottom of this article)
Please note: If you already have a login for the main application, you can also choose to use the same login to get into eSS. All you need to do is go through the below registration process and select 'Use my existing enableHR Account' when completing your registration.
If for any reason this doesn't work, you can also choose to manually link your employee record to your login. Do learn how to do so, Please see this Knowledge Base article on how to link records. Once the record has been linked and you've provided yourself with the appropriate role, navigate to either https://my.enablehr.com.au or https://my.enablehr.co.nz and use your normal enableHR user login and password to also access your eSS account.
Standard Registration Process
An enableHR admin sends the person (eg Candidate, Employee, Volunteer) an email with a unique eSS URL specific to their enableHR account. This person must have either an email address or Employee ID already stored in their enableHR file. This URL can be found at:
Settings > Account Settings > Commercial tab > Add-ons tab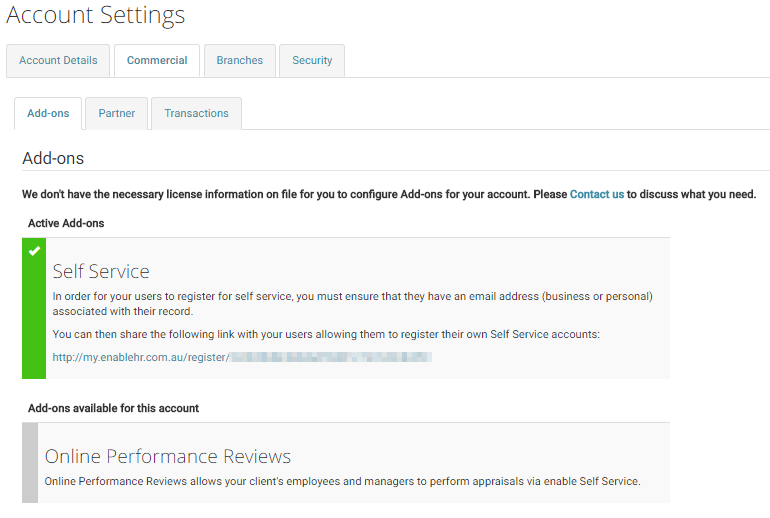 Example Email to Send
Dear Employee,
We would like you to register for our Employee Self Service Portal for our company. Please click the link below to register. Your username will be set as your email address we have stored for you on your file.
http://my.enablehr.com.au/register/3c3b50d8c6d84e359d01c7d7XXXXXXXX
Regards
HR Administrator
When the user clicks the link in the email, they are taken to the following screen. "Email address" is the default selection. The other option in the drop-down is "Employee ID". Once they have entered their email address, they select the "Register" button.
NOTE: Workers can register using their email address OR Employee ID. By default, the system sets up the email address as the username.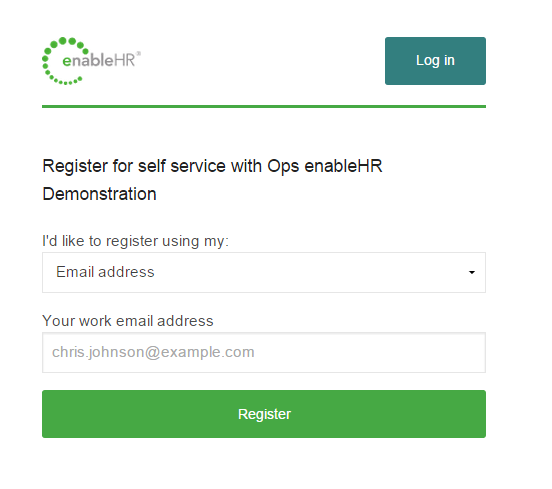 If the email address entered matches one in the enableHR system, the user will receive the message below. They then need to select the "Confirm your registration" button.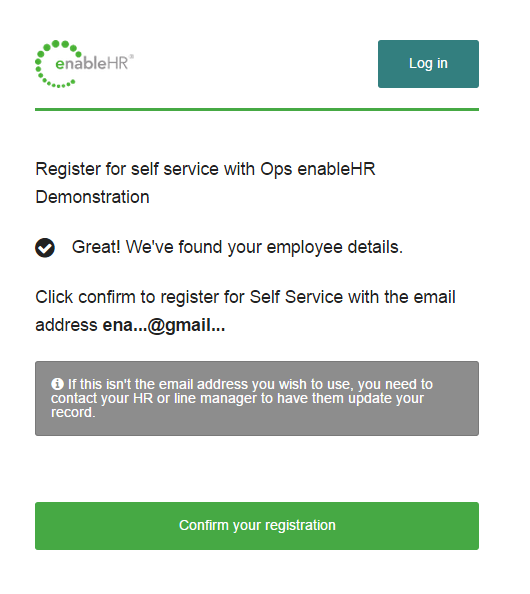 The user is displayed a screen advising they have been sent an email.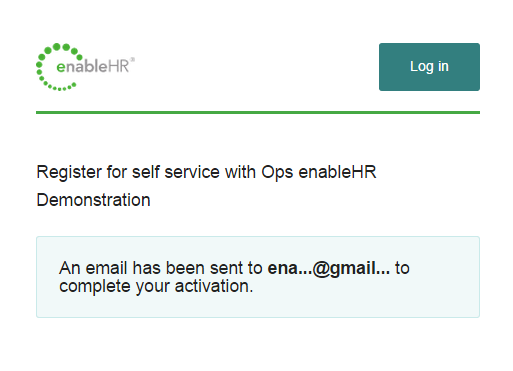 The user needs to check their email account and select the link in their email.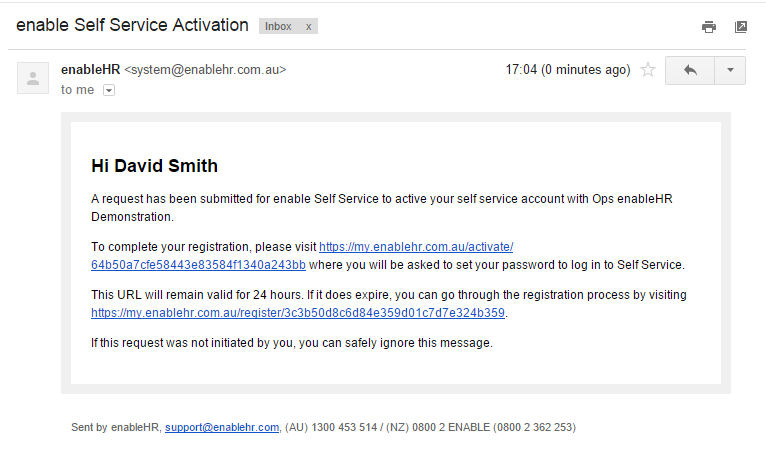 Once the link in the email is clicked, the user is presented with the following page. They need to select the "I need a new account" button (If they don't already have a login to enableHR. If they do, they click Use my existing enableHR account)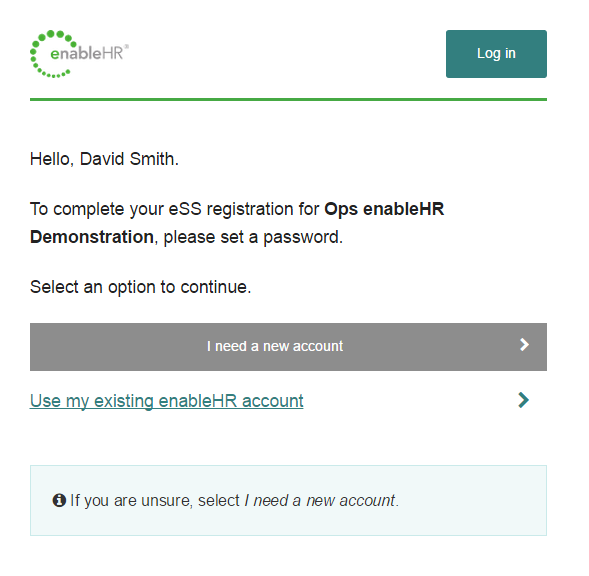 The user is presented with a page where they need to enter a password and then re-enter the identical password on the field below. When completed they need to select the "Save my password" button.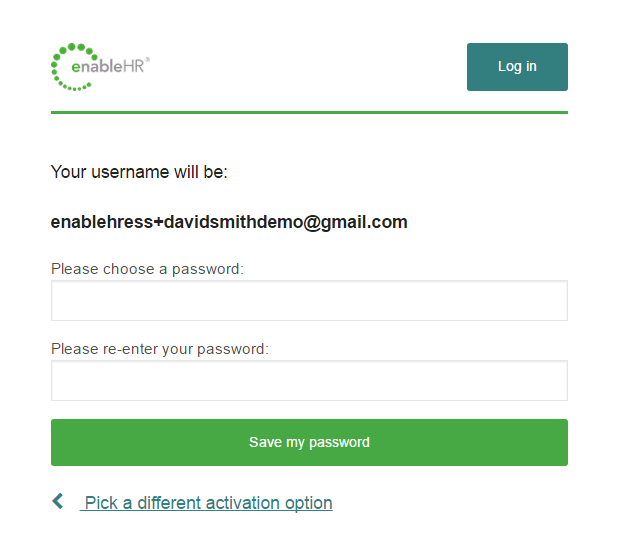 The user is now activated and logged in to their new eSS account.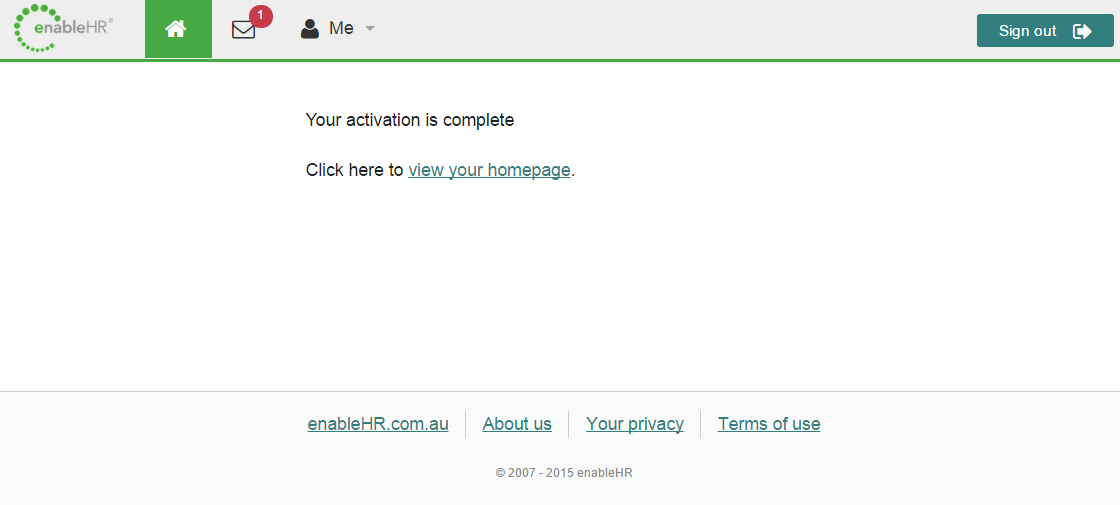 Option 2:
An Employee/Candidate/Contractor/Volunteer etc is sent a task to complete from an eSS enable Checklist within enableHR. If they do not yet have an eSS account, they will first be sent an initial email asking them to register for eSS.
Please see this Knowledge Base article for complete information about Option 2.