To send the e-learning checklist out, use the bulk launch function which you can then deploy the learning in batches of approximately 20 workers at a time .
To use the bulk launch functionality , ensure you have the correct user access permissions applied and the workers you select have already registered for Self Service (eSS).
Step 1. Check your user access
To check your user access:
Navigate to the top right corner of your account home screen
Click on Settings
Select Usernames and Passwords from the drop-down list:

Select your name from the Users Tab
Select the Access Control tab over to the right next to your user Details tab.
The User Access Role you need is labelled "Bulk Launch Checklists".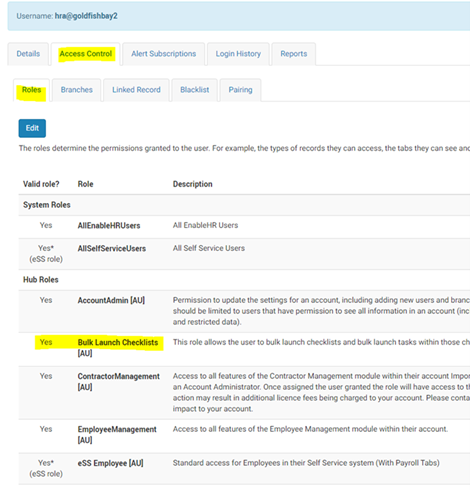 If this access role is not assigned on your list of roles:
Click the edit button
Select the role by ticking the checkbox
Click the blue Update button.
Step 2. Ensure all Worker Records have access to their Employee Self Service (eSS)
Option 1. You can check this by running a report in the Reporting Module selecting Self Service + symbol and clicking on Self Service Users.
Option 2. You can view your list of Self-Service Users by navigating to Settings and clicking on Usernames and Passwords. Under the eSS Users tab will a list of your current eSS users.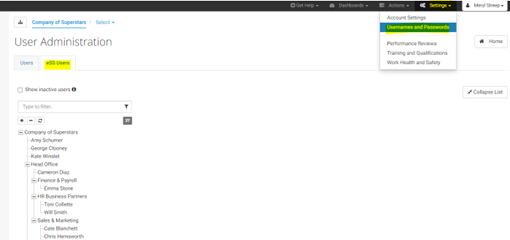 Note: For workers who are not registered for Self Service you will need use our two options above to initiate the registration process prior to the Bulk Launch of the Checklist or you can un-tick or un-select those workers from the Bulk Launch list.
Step 3. Initiate the Bulk Launch Checklist
Navigate to the Bulk Launch Checklist Tab from Employee Management, Contractor Management or Volunteer Management Modules.
The example below is from Contractor Management:
Name your Bulk Launch and click Next.

Select the e-learning: Introduction to Appropriate Behavior Checklist from the drop-down option.

Select Record types by checking the boxes for Employee, Contractor or Volunteer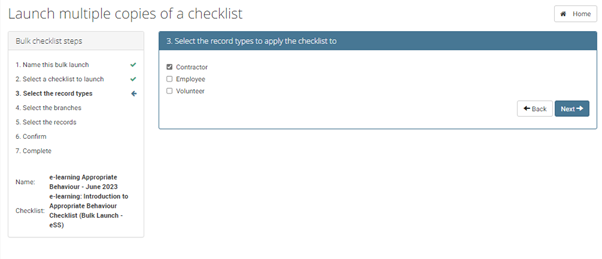 Select Branch/s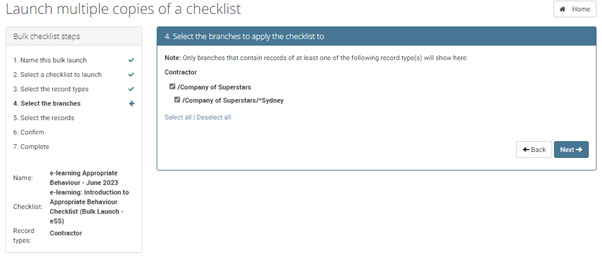 Select Record/s
At this point you will be able to tick or untick your workers records. Workers without an email ID associated with their record are highlighted with a yellow box.
Without an email against their record the notifications will not send, nor will they have registered for Self Service. Therefore, it is recommended that these workers are updated with an email address or untick records without an email address in the Bulk launch list.
Click Next once you have reviewed the workers records.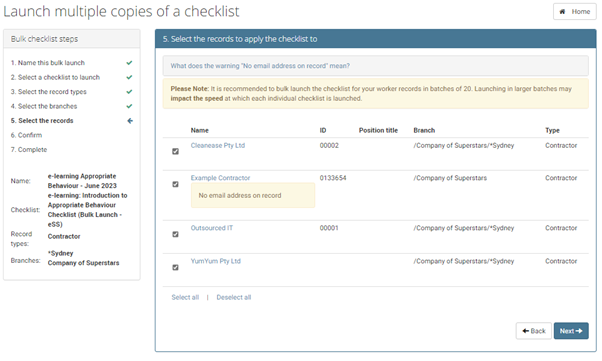 Confirm Records before Launch
On this page confirm the list of records you will be launching.
You can ignore steps 1 & 2 on this page. These functions are not required for this checklist.
Once records are confirmed you can click the blue "Launch" button. If you missed someone you can click on the Back button to take you back to record selection.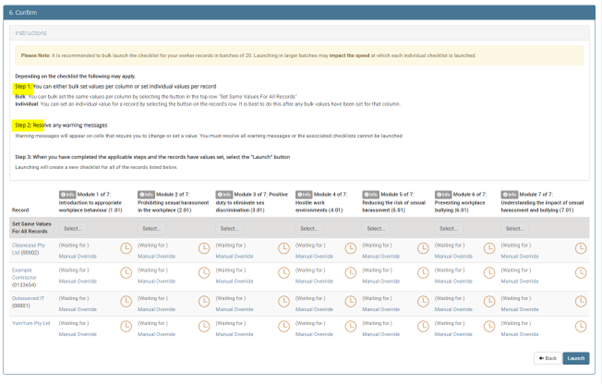 Next FAQ - How do I run a report to track what modules my workers have completed?