Deleting a Checklist
This article provides guidance on how to delete a checklist in enableHR and what to do if you have accidentally deleted a checklist. Please note the process of recovering a deleted checklist may incur fees for the time taken by our Development team to restore the checklist.
How to delete a checklist?
BEWARE: Please keep in mind that deleting a checklist will permanently delete it and the checklist will no longer be accessible via the worker record. It is therefore important that you first review the checklist to be certain that you wish to delete it. Documents generated via the deleted checklist will still be available under the employee's Documents tab. Notes recorded on the checklist will remain saved under the Notes tab.
1. Launch the checklist from the worker record.
2. You will find the "Details" box located on the right-hand side of the screen.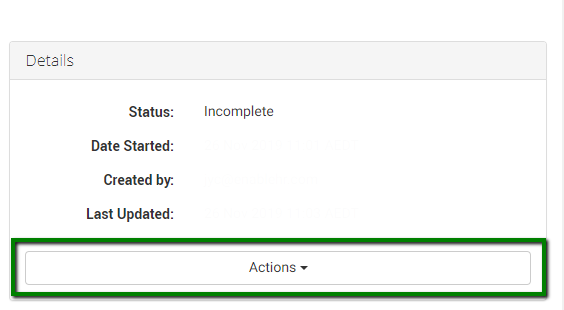 3. Click on "Actions" and select "Delete".


4. Review and consider the below "Warning Alert Message".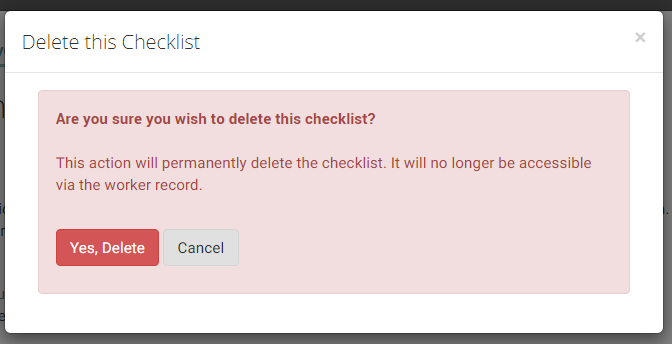 5. If you wish to delete, click on "Yes, Delete" to complete this action.
What if I accidentally delete a checklist?
If a checklist has been deleted by accident, it is highly recommended to pause and refrain from navigating away of the page. Please take a screenshot of the page you are on, including the URL bar. This will assist the Development team in locating the deleted checklist. Please then contact the Client Experience Team directly for further instructions.




Otherwise, if you have documents created via this checklist, you can go to the employee's "Documents" tab to locate the deleted checklist as followed:


1. Click on the document name.


2. Click on the name of the checklist.



3. Provide the URL to the Client Experience Team to proceed with the checklist recovery process.



Can I recover the checklist?
No, you cannot recover the checklist yourself.
A deleted checklist can only be recovered by enableHR's Development team at an extra cost. The cost varies based on the level of difficulty in identifying and locating the checklist. The more information you can provide the higher chance the checklist can be recovered successfully. You will be provided with a quote and estimated time for completion for your approval prior to the commencement of the recovery process.
If this service is required, the types of information to provide to Client Experience is as follows:
What is the name of the worker the checklist relates to?
What is the URL for the checklist?
When was the checklist created/generated?
Which user created/generated the checklist?
What date was the checklist deleted?
Which user deleted the checklist?
Why is it important that the checklist is recovered?
Need help?
Contact Client Success for assistance.