Unlinking Xero Integration may need to be done in cases where an import needs to be done from one branch to another, or from one account to another.
This has to be done inside your Xero account at: https://go.xero.com//Settings/ConnectedApps/

Please note: It may be best to clear your browser's cache and cookies first prior to doing the following steps.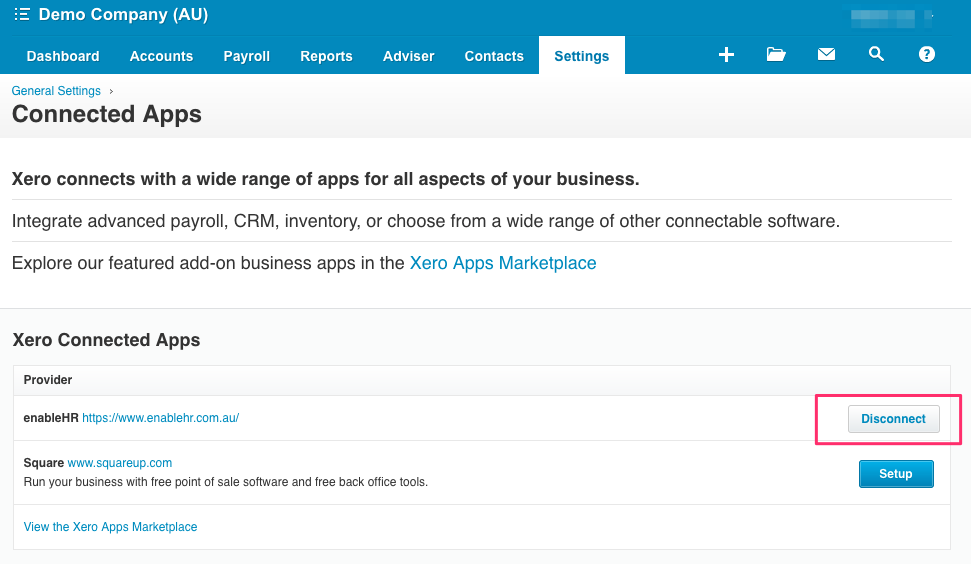 Known Limitations & Exceptions
Xero does not have visible employee IDs or payroll numbers. If you've already created the employees in enableHR before importing from Xero the first time, the system may create duplicate employees. These can be quickly fixed using the "Merge" button in enableHR, after which they will not be duplicated again;


If you are a Xero Partner setting the account up for your client, and your client does not appear in the list, you may not have the correct permission to access their Xero account for the import. Please contact your client to update your permissions to their Xero Account;


If you attempt to integrate your Xero account and come face to this error message (below), it means you do not have the required access to connect the Applications together. If so, you may need to go to your Xero Account Holder to update your Xero login to FULL ACCESS.