1. Login to your Referral Partner Account
2. Navigate to the 'Refer a Client' button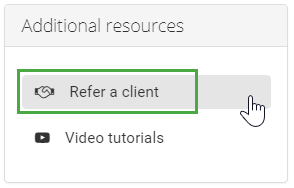 3. Simply enter the details for your client and hit 'Refer Your Client Today!'
Not yet signed up as a Referral Partner? Click here to enter your details.
What happens once I have referred my client by providing their details?
Your client will be contacted by a member of our sales team. Our team will discuss the needs of your client and how we can help to solve their HR challenges.
I already work with an enableHR HR Partner, can I continue to refer my clients to them?
If you work with one of our HR Partners, you can continue to refer your clients to them for them to manage. So that we can track your referrals and you can maintain a complimentary* license to enableHR, we will still need you to enter your referrals using the 'Refer a Client' button mentioned above. There's a space for you to fill in your HR Partners name in the form. You should still let the HR Partner know about the referral in the same way that you do now.
*Conditions apply