Access Technical Support through the 'HELP' Button
It is important that you familiarise yourself with enableHR's HR and Safety management tool and set it up to ensure that your business can reap the benefits.
enableHR is user friendly and intuitive and it should therefore be fairly straightforward to use when managing your workforce. We do however provide you with technical support via our Knowledge Base and Client Experience team should you require any assistance along the way.
All users of enableHR can access these services via the 'HELP' button when logged into their enableHR account.




enableHR's Knowledge Base
enableHR's Knowledge Base provides you with everything you need to know about enableHR. It contains a suite of guidance tools which provide explanations of enableHR's functional capabilities and step-by-step instructions on how to use the system.
You can search the Knowledge Base from within enableHR by simply clicking on the 'HELP' button and typing in your search terms. You will thereafter be provided with a list of top articles that may be relevant to your question.
Once you have located the relevant article, you then view the article from within enableHR whilst you follow the instructions.
Here's how:
1. Click on the 'HELP' button.

2. Type in your search terms and review the top results.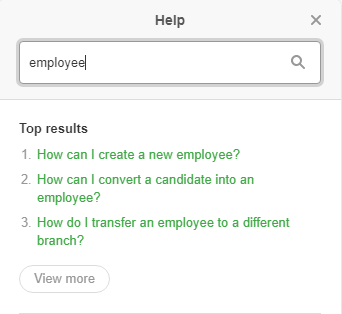 3. Select the relevant article and view it from within enableHR.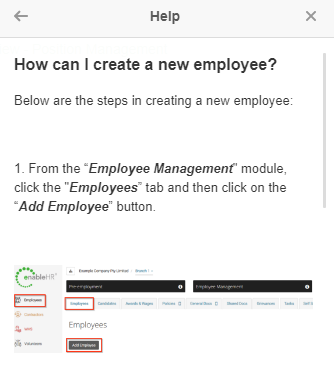 enableHR's Client Experience Team

enableHR's Client Experience team ensures that our clients are deriving maximum value from the enableHR product, provides demonstrations and information on enableHR's growing selection of capabilities and focuses on providing both technical and functional support, offering assistance in all facets of the system to users of all backgrounds.
You can contact Client Experience from within enableHR via the 'HELP' button. If you are unable to find the relevant article after attempting to search our Knowledge Base, you will be prompted to contact Client Experience by submitting a ticket.
Here's how:
4. If you are unable to locate the relevant article, submit a ticket with Client Experience by clicking on 'Contact Us' and completing all the relevant fields. Once your ticket has been submitted, Client Experience will be in contact to resolve your query.