In our drive to enhance the Partner/client relationship, clients can now view their Partner's contact details from the account homepage which then gives an additional prompt for clients to contact their respective Partners regarding matters about HR and/or the enableHR product.
To add your contact details, please follow the steps below:
1.) Navigate to the 'Partner Adminstration' tab on the upper right hand side of the screen.

2.) Click on the 'Branding' tab, followed by the 'Edit' button.

3. Enter contact details.

4.) Click the 'Update' button to save.
Once the contact details have been saved, clients can now view the Partner's contact details from the 'Get Help' menu tab above the homepage: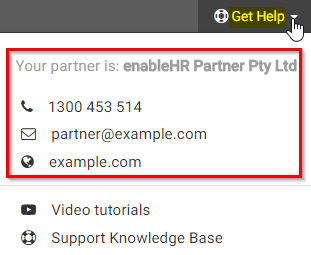 Note: If the contact details are not filled out, the only text that shows is "Your Partner is XXX".