Alerts and Reminders can be set against Records (e.g. employees, contractors, hazards) and Documents (e.g. for expiry). For a list of the available alerts in the enableHR system, please see this article.
In order to receive the alert, you need to be subscribed to receive these alerts.
To manage your Alerts:
Go to the Alerts tab on the homepage (1)
Click Update subscriptions (2)
Select the types of alerts that you would like to receive (3)
Click Save (4)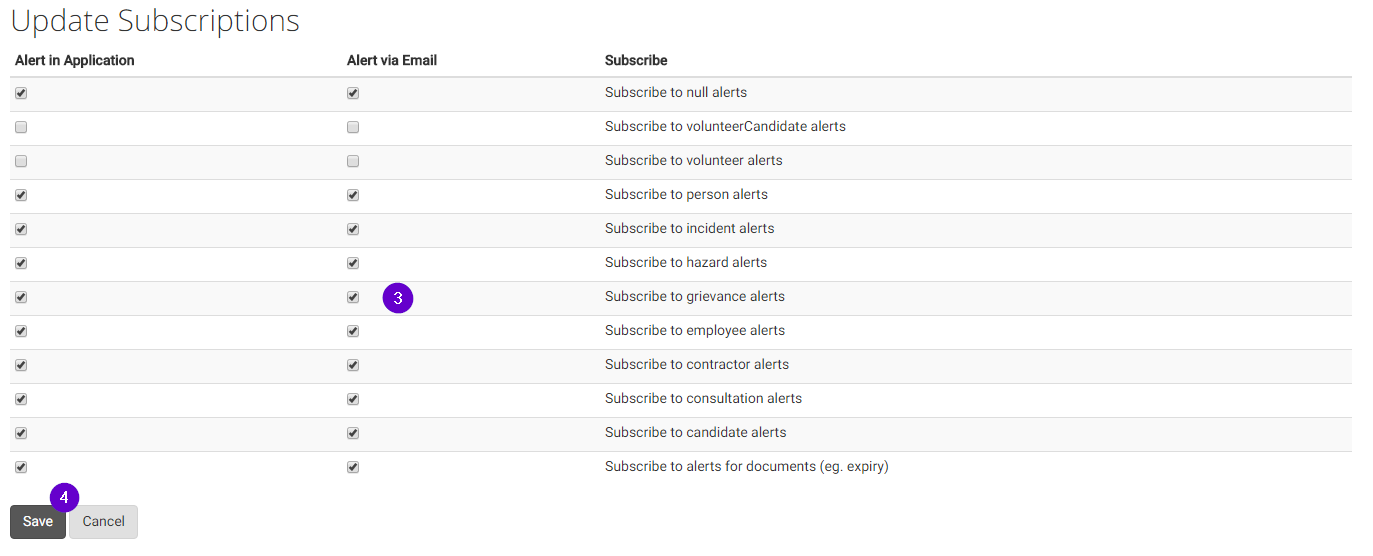 Users can receive alerts via:
Alert in Application - these alerts will only display in the Alerts tab when logged into enableHR
Alert via Email - An email will be sent to your user account email address with the details of the alert
You can choose to subscribe to both types of alerts.

Once subscribed to alerts, it will trigger alerts from the following records:
Record Alerts
Document Alerts
Check List Alerts
Present Capability Alerts
Please see this article for additional information: What actions trigger which alerts?
How to remove alerts from appearing within my Alert list
If your user mistakenly subscribed to an alert, they can simply deselect the alert type that they don't want and this will remove any future alerts or previously generated alerts from their alert list.
Deselecting the subscription and clicking Save will hide any previous alerts that were not acknowledged (see this article for info about acknowledging alerts). Any alerts that were hidden during this process are not acknowledged and can still be accessed if that alert type is subscribed to once more.