Reports can be an extremely useful tool to gather insights from your employment data that otherwise would be very difficult or time-consuming to do. Since enableHR stores all your employment data in the cloud, it has the power to crunch through all of your data in one place quickly.
To get started with using enableHR's data reports, access the Employment Dashboard which can be accessed within the top toolbar. This should bring you to a brief visual overview of your companies employment data all in one place.

The Employment Dashboard gives insight into the Documents Updated, Notes Created, Recent Alerts, Number of Employees, Checklists Updated and Documents Created.
If you'd like to run more specific reports you can select "Reporting..." from the left side of the Dashboard. You will be presented with a wide range of reports you can run.
These reports can be run to determine any employees who does not have a valid employment contract, run a Role vs Competencies matrix, etc.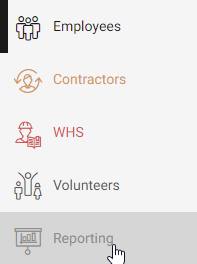 The key reporting sections are:
Record Management
Workflows (Checklists)
Call tracking and notes
Document Management
WHS
Task Management
Training Management
Security
Handy reports
Record Export CSV: Export information on the records in your system.

Checklist/Workflow Analysis: Use this report to analyse checklists initiated, completed or in progress over a certain date range. You can filter this report by branch or system wide.

Document by Exception: Use this report to identify records that have or do not have a certain type of document. E.g This report is useful if you are trying to identify employees that do not have an employment contract uploaded to their employee file.

WHS Reports
Hazards Report: Use this report to summarise the hazards created/updated in a date range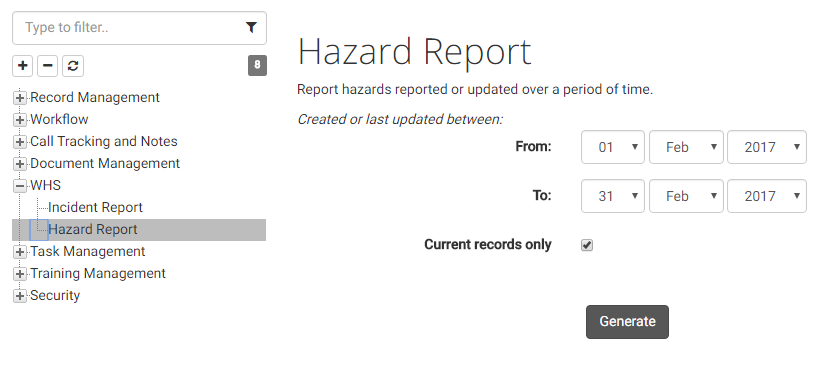 Incidents Report: Use this report to summarise the incidents created/updated in a date range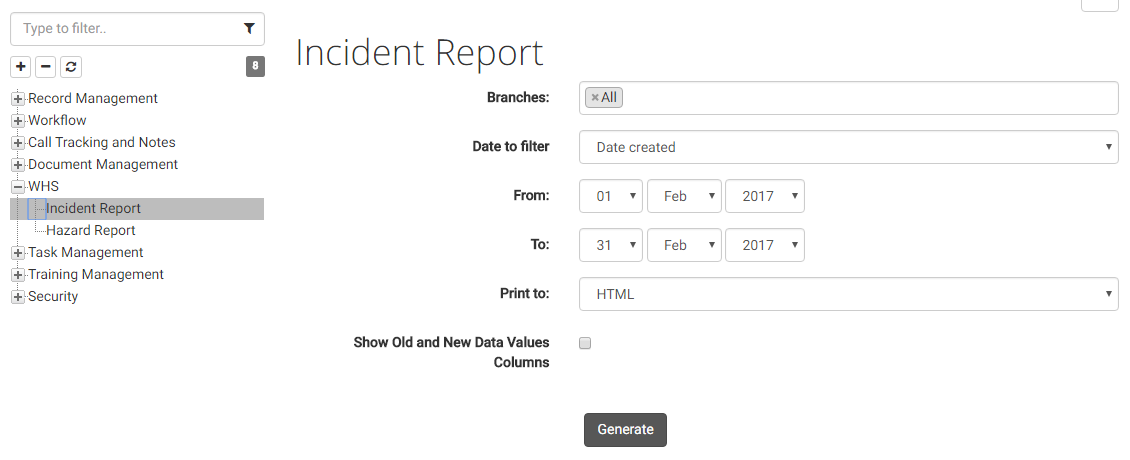 Training Management Reports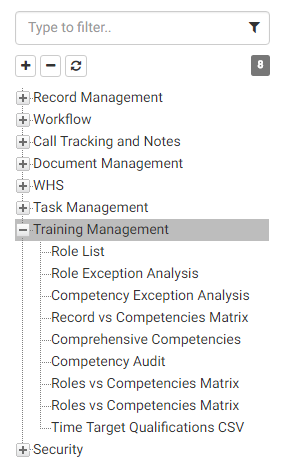 Roles vs Competency Matrix: This report details the set up of roles and competencies allowing you to get a snapshot for auditing purposes.
Competency Exception Analysis: This report allows you to analyse records that do or do not have a certain competency. This report can be useful if there are competencies that are compliance based and you want to identify records that are missing the competency or they have expired e.g. Working with Children Check, Driver Licence
Role Exception Analysis: The Role Exception Analysis report is similar to the Competency Exception report but allows you to select a role, the report will generate based on the competencies assigned to that role. E.g. If you select Forklift Driver role and that role has Forklift Licence and WHS course assigned, the report will generate and display the result for those competencies.
Record vs Competencies Matrix: This report allows you to select a record type and get a snapshot of the state of the competencies. The report will show if the competency is Missing, In Progress, Complete or Expired.
Security Reports
The Security Reports provide you with information regarding the system and user set up.